Friday, May 27, 2011
My friend Liza and I met when our oldest daughters (now 16 & 17) were in the 2nd grade. We also were pregnant together more than once and have been through lots of things together as well. Our 4 yr olds are 1 week apart exactly and are in the same PreK class at school. Our youngest kiddos are 2 & 14 months....only difference is that I have 2 in the middle (12 &10).lol Our husbands became friends and it's just an all around great situation for us all.

Liza reads my blog everyday and always encourages me in what I do. Her mom also reads my blog and is a yard sale queen too. When Liza comes over my house for parties and stuff she always freaks out because she's afraid her 2 boys will wreck the place. lol Which leads me to the idea of this redesign. She has the 2 boys and they are active, they love all things cars, trucks, trains. Did I mention that are the freakin most cutest things ever. They are boys..boys! They were callin me the first hour I was there....the big one called me Maui and the little one called Mene....hey Melanie is a hard name to pronounce! Even adults mess it up to this day! lol

She had been feeling like her living room became a playroom/frat room. She said she wanted a pretty living room and asked me to help her out. We wanted to do this makeover without spending money. However as we discussed it we decided that the sofas needed to go and came up with a tiny budget of $200 for the entire living room.

Here is the transformation...I arrived at 7 p.m. thursday night (Facebooked the beginning) and I was done by 10:15 p.m.(we were talking about everything and I didnt take a cell phone pic to post it) Then again it's much better seeing it all here first. I will post it in a new album on the Lucky 7 Design Facebook page. Also look for new line of vintage and handmade items in Lucky 7 Design Etsy shop coming in June.



This is the LR looking toward front door
looking into kitchen (check out the M&M airplane toy) lol
Looking from staircase
Shot of the window wall (dont know why it kept coming out dark)
Here is the redesigned room
The chairs were a craigslist find $15 pair...all items on wall shelf $0 junkin stash. Vintage tray spray painted bronze. Old red encyclopedia books. Vanilla candle wrapped with twine. Liza is a big reader and so I made the shelves from books.....it personalized the room for her.
I really like this wall a lot. The only things purchased in this whole picture were the Waverly curtains for $0.10 a panel...yep 20 cents. Oh and the new loveseat (part of a set) Her mother Elsa made that candy shaped pillow from a window valance (I need to subcontract my sewing projects to her..lol)
She wanted a entry table so I had the Bombay Co demi lune and I gifted it to her because she is a great friend. I sanded, painted, glazed and sanded the table parts that were wood. I spray painted the former black legs bronze. Reluctantly I also painted the brass medallions but I had to so the legs and hardware matching and looked authentic. I used Krylon spray paint & looking glass for these 2 projects.
The tables she found at a yard sale $20 for the pair. Also she decided the day of the makeover to pick up this rug she saw at Walmart the other day $40....was a great idea and adds nice texture and color. I mean could it fit any more perfect than that?
I made her a piece of homemade typography art from a burlap bag and craft paint. It has FAMILY down the center and this family's names all connected.
I made this sign myself for them as a gift too. I love Barn Owl Primitives & 41 West Designs work and I just received a family name sign last week from Word Whipped and I loved it so much it inspired me to create one for them. All hand painted ladies....no stencils here.
I sanded down the white chairs to discover lovely pink & cream loveliness. I asked her if she was okay with a little shabby chic look. She said Ummmmmm Yes! I added their monogram because I thought it was fun and Im slightly obsessed with letters and her and I discussed a monogram somewhere.
This tabletop stuff needed to be boy proof so a bowl of vintage clothespins (round ones) a junk wood frame. handmade burlap nest wall hanging and a junk lamp (which I forgot to put on shade when i took this pic) lol
Here is a look at the large sofa piece...was listed on Craigslist for $150 but I was able to negotiate $100 for set since we originally didn't want to spend money. But she deserved new sofas, so here they are in all their sandy micro-suede yumminess. Mama also made that pillow on the sofa from a piece of toile fabric that Liza found somewhere....love it! We are gonna make another pillow for this sofa!
A look again from steps..it looks cozy but tables can be moved if the boys want to play and have camp outs (which they do with Daddy and I think thats awesome) I would definitely camp out in here. You can see in the pass through, we relocated the Ikea bookcase to the kitchen where it now holds copper prettys and bins with potatoes and onions. Love when things get new life (dvd holder to food holder).
Here is the staircase wall...thats the boys toy chest and dvd box. I made the wall art from some scrap wood and hardware. Thats her hubby taking pictures with his nice camera.
Love the border of the rug....she did good. She also sanded these tables herself! We like the end tables as double coffee tables and storage too!
She is a huge reader so of course I have to give her one of my book page dahlia flower hangings. It's edges are painted red
She found the pillow (4 of them) at yard sale so we through one under there for color.
So here is the budget breakdown in the end:
Waverly panels $ 0.20
Wood chairs $ 15.00
Wood Tables $ 20.00
Rug $ 40.00
Sofa & loveseat $ 100.00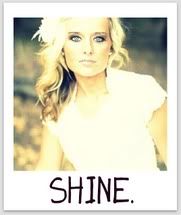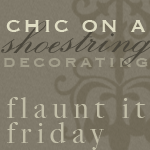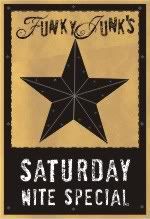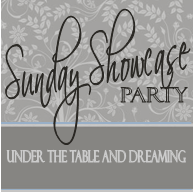 tp://"/>
0 Comments: